Elisha Hall, Ph.D., R.D.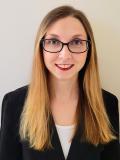 Dr. Elisha Hall is a Health Education Specialist with the National Center for Immunization and Respiratory Diseases at the Centers for Disease Control and Prevention. As an educator with 11 years of experience, she creates, delivers, and evaluates immunization-related educational material and training. She first joined CDC in 2017, transitioning to immunizations in 2020. In addition to being the lead editor on CDC's Epidemiology and Prevention of Vaccine-Preventable Diseases, otherwise known as the "Pink Book", she has spent the majority of the past two years in CDC's COVID-19 emergency response, holding various education and leadership roles within its Vaccine Task Force, most recently as the Clinical Guidelines Lead. She holds a BS and an MS in Nutrition and Health Sciences and PhD in Human Sciences from the University of Nebraska-Lincoln.
Non-financial relationships: No non-financial relationships have been disclosed.
Financial relationships
There are no financial relationships to disclose.
Return to APR 2022 CCSS: Military Children and Youth: Extending Force Protection to our Nation's Most Valuable Assets