A. Patricia Wodi, M.D., F.A.A.P.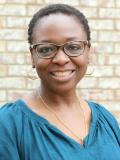 A. Patricia Wodi, M.D., is a public health physician with the Centers for Disease Control and Prevention's Immunization Services Division, located in the National Center for Immunization and Respiratory Diseases. Prior to joining the CDC, Dr. Wodi worked in clinical practice and clinical drug development for over 15 years. At the CDC, she is the co-lead for the Advisory Committee on Immunization Practice Combined Immunization Schedule Work Group, editor for the Epidemiology and Prevention of Vaccine-Preventable Disease textbook (Pink Book), provides immunization educational resources and training to healthcare providers, and has worked on several vaccine safety research studies. Dr. Wodi holds a Doctor of Medicine degree from the College of Medicine, University of Port-Harcourt in Nigeria, and is board certified in general pediatrics and pediatric infectious diseases.
Non-financial relationships: No non-financial relationships have been disclosed.
Financial relationships
There are no financial relationships to disclose.
Return to APR 2022 CCSS: Military Children and Youth: Extending Force Protection to our Nation's Most Valuable Assets