Stephanie Karch, Ph.D., Au.D., C.C.C.-A.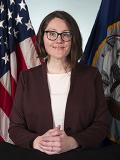 Stephanie Karch, Ph.D., Au.D. is a research audiologist at the Naval Submarine Medical Research Laboratory (NSMRL) and works as a principal investigator on the Regional Hearing Conservation Program of Record. In this role, she investigates the prevention of auditory injury (e.g., hearing loss, tinnitus) among service members. Specifically, she studies the effect of training and verification of hearing protection in the field, clinic, and laboratory; and the effect of hearing protection on auditory function (e.g., situational awareness, speech intelligibility, and localization).

A graduate in audiology of Gallaudet University, Dr. Karch has over seven years of doctoral level experience in military medical research, having served in Navy and Army medical research laboratories. Previous to her work at NSMRL, she characterized the vestibular function of military aviators, and investigated the comorbidity of auditory injuries and mild traumatic brain injuries. Dr. Karch also holds the American Speech Language Hearing Association's Certificate of Clinical Competence in Audiology (C.C.C.-A.).
*Non-financial relationship: No non-financial relationships have been disclosed.
Financial relationships
There are no financial relationships to disclose.
Return to Home Study: OCT 2021 CCSS: Promising Practices in Military Health Care