Devon Kulinski, Ph.D., Au.D., C.C.C.A.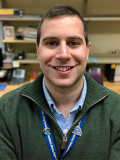 Devon Kulinski, Au.D. has supported Department of Defense (DoD) auditory research for the last seven years as a post-graduate research assistant at the Naval Submarine Medical Research Laboratory (NSMRL) and as a doctoral student at National Center for Rehabilitative Auditory Research (NCRAR). He is currently providing contract support as a research audiologist affiliated with Walter Reed National Military Medical Center (WRNMMC). His primary areas of support include the development of tablet-based fit-test systems for hearing protection devices, assessment of military hearing health education programs, and the measurement of acute auditory effects of blast exposure on active duty military personnel.
*Non-financial relationship: No non-financial relationships have been disclosed.
Return to Home Study: OCT 2021 CCSS: Promising Practices in Military Health Care