Karen Lambert, P.T., D.P.T., N.C.S.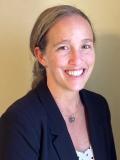 Karen H. Lambert, P.T., D.P.T., N.C.S. currently serves as the Vestibular Program Manager for the Hearing Center of Excellence (HCE) for the Department of Defense (DoD) and Veterans Administration (VA). In addition, she provides clinical care at a private outpatient physical therapy clinic specializing in treatment of patients with neurologic dysfunction. She earned a Master of Physical Therapy from Medical College of Pennsylvania (MCP) Hahnemann University in 2000 and her Doctorate of Physical Therapy from Drexel University in 2014. She received Board Certification in the area of Neurologic Physical Therapy from the American Physical Therapy Board of Clinical Specialties in 2006 and recertification in 2016. She has served on multiple task forces related to concussion and vestibular dysfunction for the Academy of Neurology within the American Physical Therapy Association. She served as the Officer in Charge of the Traumatic Brain Injury Section of Physical Therapy at Walter Reed Army Medical Center from December 2007-August 2010 where she participated in several research projects aimed at investigating the most effective rehabilitative techniques for service members with complaints of dizziness and/or cognitive impairment post mild to moderate traumatic brain injury.
*Non-financial relationship: No non-financial relationships have been disclosed.
Financial relationships
There are no financial relationships to disclose.
Return to June 2021 CCSS Home Study S03: Practice Considerations When Triaging Patients with Hearing and Balance Symptoms