Tara Zaugg, Au.D., C.C.C.-A.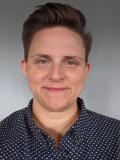 Dr. Tara Zaugg is a certified, licensed, and clinically privileged research audiologist employed at the National Center for Rehabilitative Auditory Research (NCRAR) located at the Department of Veterans Affairs (VA) Portland Health Care System. Through involvement in tinnitus clinical trials over the last 21 years at the NCRAR, she has acquired experience with a wide range of tinnitus assessment and management methods. She also has experience training audiologists to implement various methods of tinnitus management. Dr. Zaugg is a co-developer of Progressive Tinnitus Management (PTM), which is endorsed by the Department of Veterans Affairs (VA) Central Office as the standard method of tinnitus management for VA hospitals. Dr. Zaugg strives to understand the perspective of clinicians and patients using PTM, and to incorporate their needs and insights into PTM as it evolves.
*Non-financial relationship: No non-financial relationships have been disclosed.
Financial relationships
There are no financial relationships to disclose.
Return to June 2021 CCSS Home Study S03: Practice Considerations When Triaging Patients with Hearing and Balance Symptoms