Movicque King, M.D., M.C.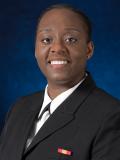 Navy Lt. Movique King, M.D., M.C. is a current PGY-3 Pediatrics Resident at Naval Medical Center Portsmouth (NMCP). She is as graduate of Georgetown University where she received her Bachelor of Science in Human Science degree from the School of Nursing and Health Studies and earned her medical degree from Eastern Virginia Medical School in 2016. After completing her intern year in Pediatrics at NMCP, she served as a General Medical Officer at the Department of Defense's (DoDs) largest substance abuse rehabilitation program at NMCP for two years. During this time she also served as one of the Primary Care Providers for NMCP's Warrior Concussion Clinic participating in multi-disciplinary care of expeditionary forces with history of concussive exposure and traumatic brain injury (TBI) symptoms. LT King returned to residency in 2019 and has held many leadership positions within the residency program. After graduation, she will serve as a General Pediatrician, providing care to DoD dependent children and adolescents at Navy Medicine Readiness Training Unit (NMRTU) Kings Bay.
*Non-financial relationships: No non-financial relationships have been disclosed.
Financial relationships
There are no financial relationships to disclose.
Return to DO NOT USE ---- JUN 2021 CCSS S05: Cardiac Implications of COVID-19 and Return to Play Recommendations for Pediatric Populations