Joseph Procaccino, JR., J.D., M.F.S.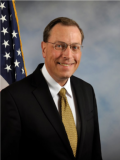 Mr. Procaccino is Legal Advisor for Department of Defense Medical Ethics Center centered at the Uniformed Services University for the Health Sciences (USUHS), and is an Adjunct Assistant Professor of Preventive Medicine and Biostatistics at USUHS where he teaches Medical Jurisprudence and Bioethical issues. He has been on the faculty at USUHS since 1991. He is also on the faculty of the Defense Department's Medxellence Program. He is currently serving in a re-hired annuitant role.
Mr. Procaccino has served as the Legal Advisor to the Surgeon General, United States Air Force, and Senior Counsel for Health Affairs for the Air Force Judge Advocate General from 1993 until his retirement from Civil Service in that position in 2017. Prior to that, he was the Senior Medical Law Counsel for the Tort Claims and Litigation Branch of the Air Force Legal Operations Agency, beginning his Air Force tenure with that office in 1978. He also served as the legal representative to the Surgeon General's Medical Practice Review Board and Clinical Investigation Review Committee, and participated in the Department of Defense Health Affairs Committee for Risk Management and Quality Assurance.
Mr. Procaccino was commissioned an officer in the U.S. Army Signal Corps in 1973. He subsequently served in the U.S. Army Reserve in both the Signal Corps and Military Intelligence Branch.
He holds a Bachelor's Degree in both Classical Humanities and Political Science from George Washington University. He received his Juris Doctor degree from American University and a Master's degree in Forensic Medicine (Sciences) from George Washington University.
*Non-financial relationships: No non-financial relationships have been disclosed.
Financial relationships
There are no financial relationships to disclose.
Return to JUN 2021 CCSS S06: Evidence, Evaluation, and Ethical Obligations: Looking at Evidence Based Medicine