Adam Huillet, M.D. M.C., USA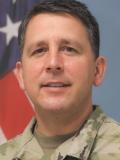 COL Adam Huillet is a Board Certified Developmental Pediatrician at Landstuhl Regional Medical Center. He graduated from Uniformed Services University in 2002 and completed a Pediatric residency at Tripler Army Medical Center in 2005. He completed a fellowship in Developmental Pediatrics at Madigan Army Medical Center in 2010. Areas of interest include iron deficiency in children with Autism and caring for children with Trisomy 21. He has spent 12 of his 19 year Army career at OCONUS locations with his wife and children.
Financial relationships
There are no financial relationships to disclose.
Return to HS - APRIL 2021 CCSS S01: Best Practices in Caring for Children in OCONUS Locations