Gregory Gorman, M.D., M.H.S.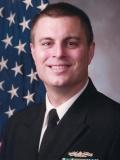 Navy Capt. Gregory Gorman is the Executive Director of the Defense Health Board, Chair of the Defense Health Agency (DHA) Complex Pediatrics Clinical Community, and Alternate Designated Federal Officer for the Board of Regents of the Uniformed Services University where he holds the rank of Professor. A graduate of Georgetown University and the Washington University School of Medicine in St. Louis, he is board-certified in Pediatrics, Pediatric Nephrology, and Clinical Informatics. He is a Master Clinician of the Walter Reed National Military Medical Center (WRNMMC).
CAPT Gorman completed a Masters in Epidemiology at the Johns Hopkins Bloomberg School of Public Health and is an expert in performing clinical research with government and military medical databases. He has authored over thirty-five peer-reviewed journal articles on topics that include pediatric kidney disease, the epidemiology of autism and other childhood illnesses, and the effects of military deployment on children. His recent efforts focus on continuous quality improvement and outcome measure development to assess and improve military health care delivery. He is a member of the American Academy of Pediatrics, the Association of Pediatric Program Directors, the American Medical Informatics Association, the American Society of Pediatric Nephrology, and AMSUS - The Society of Federal Health Professionals.
Financial relationships
There are no financial relationships to disclose.
Return to Home Study - APR 2021 CCSS: Children and Youth in Transition