Air Force Brig. Gen. Anita Fligge, D.N.P., R.N., N.E.A.-B.C.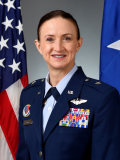 Brig Gen Anita L. Fligge is the Deputy Assistant Director, Education and Training and Chief Nursing Officer, Defense Health Agency, and Commander of the Air Force Element at Defense Health Headquarters, Falls Church, Virginia. She directs the joint development and sustainment of the Department of Defense medical training initiatives and academic policy, leading 1,800 staff and instructors across two regions with an annual operating budget of $65 million. She is directly responsible for 55 professional development and enlisted medical education programs and across two institutes training over 222,000 Department of Defense and international students annually. As the Chief Nursing Officer, she maintains clinical and patient-care standards across both the operational and medical readiness platforms, to include ensuring safe and quality nursing care across the continuum of care. As Air Force Element Commander, she provides administrative oversight for 360 Air Force personnel.
General Fligge began her career by direct commission into the Air Force Nurse Corps upon graduation from South Dakota State University in 1990 and was selected to participate in the Nurse Intern Program. She served on active duty in a variety of roles before transitioning to the Air Force Reserve in 1998. She has commanded an Aeromedical Evacuation Squadron and has deployed in support of Operational Freedom's Sentinel and Enduring Freedom in Afghanistan, and Operation Iraqi Freedom in Iraq and Kuwait.
Prior to this assignment, General Fligge served as the Mobilization Assistant to the Chief of the Air Force Nurse Corps, Headquarters U.S. Air Force, Falls Church, Va.
Financial relationships
There are no financial relationships to disclose.
Return to Home Study - Special Feature Webinar: Peer Support Training