Michael Miller, M.D.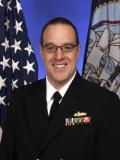 Navy Lt. Cmdr. Michael Miller grew up in Cedar Falls, IA and attended the United States Naval Academy where he earned a Bachelor of Science in Chemistry in 2005. After graduation, he was commissioned as a Surface Warfare Officer and assigned to USS LASSEN (DDG-82) in Yokosuka, Japan from 2005-2008. Following these sea tours, Navy Lt. Cmdr. Miller taught Damage Control at the Navy Damage Control Assistant/Senior Enlisted Officer Schoolhouse in San Diego, CA from 2008-2010. In 2010, Navy Lt. Cmdr. Miller lateral transferred to the Medical Corps. He attended medical school at the University of California, San Diego in 2014. He then completed Obstetrics and Gynecology residency at Naval Medical Center San Diego from 2014-2018, before spending a year at Naval Hospital Twentynine Palms as a Staff physician. In 2019, Navy Lt. Cmdr. Miller started subspecialty fellowship in Maternal-Fetal Medicine at Johns Hopkins Hospital in Baltimore, MD. His research interests include critical care obstetrics, particularly the stabilization of critically ill women at remote locations prior to transfer. Other interests include maternal cardiac disease, hypertensive disorders of pregnancy and obstetric outcomes of military women.
This activity discusses off-labeled uses of remdesivir and dexamethasone for purposes other than that for which the product(s) use was approved by the Food and Drug Administration (FDA).
Financial relationships
There are no financial relationships to disclose.
Return to FEB 2021 HS CCSS S05: Management of COVID-19 in Pregnancy