Monica Lutgendorf, M.D., F.A.C.O.G.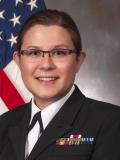 Navy CAPT. Monica Lutgendorf, M.D. grew up in Ridgecrest, California, and attended the University of Southern California on a Naval ROTC scholarship. She served as Battalion Commander, and earned her Bachelor of Science degree in Chemistry in 2000. CAPT Lutgendorf was selected to attend medical school upon commissioning, and earned her Medical Doctorate in 2004 from the Uniformed Services University of the Health Sciences in Bethesda, MD.

In 2008, CDR Lutgendorf completed internship and residency in Obstetrics and Gynecology at Naval Medical Center Portsmouth. After completing her residency, she continued serving as an OB/GYN staff physician at Naval Medical Center Portsmouth until 2011. CAPT Lutgendorf completed her subspecialty fellowship in Maternal-Fetal Medicine at Madigan Army Medical Center in Tacoma, WA in 2014.
In 2014 CAPT Lutgendorf was stationed at Naval Medical Center San Diego, where she served as the Division Director for Maternal-Fetal Medicine, the Associate Residency Program Director, and the Chair of the Defense Health Agency's Women and Infants Clinical Community until 2021. In 2021, CAPT Lutgendorf moved to the Uniformed Services University of the Health Sciences in Bethesda, MD, where she currently serves as Associate Professor and Chair of the Department of Gynecologic Surgery & Obstetrics. She is committed to clinical standardization, provider support, medical simulation, and empowerment for women in healthcare.
Her research interests include neuroprotection in preterm infants, non-invasive prenatal screening, simulation, quality improvement, healthcare disparities, intimate partner violence and posttraumatic stress disorder in pregnancy and the military.
Her awards include: Meritorious Service Medal, Navy Commendation Medal, Army Commendation Medal with oak leaf, Navy Achievement Medal with gold star and Army Achievement Medal. 
CAPT Lutgendorf, lives with her husband, Christopher Lutgendorf (USC NROTC 1999), and their 2 children in Bethesda, MD.
Financial relationships
There are no financial relationships to disclose.
Return to FEB 2021 HS CCSS S02: Intimate Partner Violence: Effects to Women's Health