Gina Wei, M.D., M.P.H.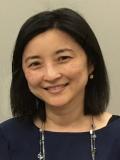 Dr. Wei is an Associate Director of the Division of Cardiovascular Sciences (DCVS) at the National Heart, Lung, and Blood Institute (NHLBI), National Institutes of Health. She also directs DCVS' Prevention and Population Sciences Program, which funds and provides leadership for population- and clinic-based research on the causes, prevention, and clinical care of heart, lung, blood, and sleep disorders. Notable studies in her Program include the Systolic Blood Pressure Intervention Trial (SPRINT), Women's Health Initiative (WHI), the Framingham Heart Study, and the Jackson Heart Study, to name a few. Also in the Program is the NHLBI's Data Access Committee leadership team.

Beyond her Program, Dr. Wei has played leadership roles in several areas for the NHLBI, including population sciences, precision medicine, data science, and maternal health. She co-chairs NHLBI's efforts on Maternal Morbidity and Mortality and is NHLBI's representative to the NIH Coordinating Committee on Research on Women's Health. She is NHLBI's co-liaison to the US Preventive Services Task Force. She was a founding co-chair of NHLBI's Data Science Working Group and Data Science Leadership Team, the latter of which she remains an active member. Dr. Wei was part of the NIH-team that led the design and stood up the NIH All of Us Research Program (previously called the Precision Medicine Initiative–Cohort Program) and until spring of 2020 was the lead NHLBI representative to the All of Us trans-NIH Liaisons Coordinating Team.

Dr. Wei holds an Adjunct Associate Professorship of Medicine at the Uniformed Services University of the Health Sciences. She received her MD and completed internal medicine residency at the George Washington University School of Medicine. After serving as chief medical resident, she completed a fellowship in general internal medicine in a joint program with the Walter Reed Army Medical Center and the D.C. Veterans Affairs Medical Center. She worked at the US Food and Drug Administration prior to joining the NHLBI.
Financial relationships
There are no financial relationships to disclose.
Return to FEB 2021 HS CCSS: Emerging Priorities in Women's Health