Erin Keyser, M.D., F.A.C.O.G.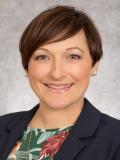 Army Lt. Col. Erin A. Keyser, MD is the Residency Program Director for the Department of Obstetrics and Gynecology at the San Antonio Military Medical Center in San Antonio, Texas. She received her undergraduate degree from the University of California, Davis and her medical degree from Albert Einstein College of Medicine in New York. She accepted a military scholarship and completed her residency at San Antonio Uniformed Services Health Education Consortium in San Antonio, Texas. After completing her residency, she worked as an Obstetrician Gynecologist at William Beaumont Army Medical Center in El Paso, Texas and during that time she served in Afghanistan as a Battalion Surgeon for the 4th Infantry Division. She returned to San Antonio in 2015 where she is an Associate Professor of OB/GYN at the Uniformed Services University of the Health Sciences and enjoys working with and teaching residents. In February 2019, she was appointed the Army Representative to the Defense Health Agency Women and Infant Clinical Community. Army Lt. Col. Keyser has been actively involved with ACOG since 2009 when she became a junior fellow district officer. From 2016-2019, Army Lt. Col. Keyser served as the ACOG National Young Physician-at-Large Officer, representing young physicians nationwide. She also served on the ABOG Qualifying Exam Committee and is a board examiner.
Financial relationships
There are no financial relationships to disclose.
Return to FEB 2021 HS CCSS: Emerging Priorities in Women's Health