Anne Mcmillan, D.N.P., M.S.N., F.N.P.-B.C., C.L.N.C.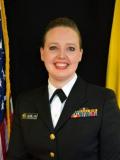 CAPT McMillan is a board-certified family nurse practitioner (NP) and US Public Health Service (USPHS) officer detailed to the Defense Health Agency (DHA) in Falls Church, VA, currently supporting the Women & Infant Clinical Community. She is serving as interim lead for the Women's Health Clinical Management Team (CMT), and she is the newly appointed Program Manager for the DHA Cardiovascular Clinical Community.

CAPT McMillan completed her BS in Nursing at Marquette University in Milwaukee, WI through a Naval ROTC scholarship and was commissioned an Ensign in the Navy Nurse Corps in 1998, serving on active duty until 2004. CAPT McMillan then entered active duty with the USPHS in 2005, where she has served with the Indian Health Service and Centers for Medicare & Medicaid Services (CMS). Throughout her 22 year career, she has served in various clinical and leadership roles, including maternal-child, primary care, healthcare policy oversight/compliance, and multiple PHS COVID-19 response missions.

In 2012, CAPT McMillan completed her Masters in Nursing at The George Washington University (GWU), becoming a board-certified family NP. She then achieved her Doctorate of Nursing Practice at GWU in 2015, specializing in palliative care. CAPT McMillan transferred from CMS Chicago to the DHA in August 2019. She resides in northern Virginia with her husband, who is also a USPHS nurse officer.
Financial relationships
There are no financial relationships to disclose.
Return to FEB 2021 HS CCSS: Emerging Priorities in Women's Health