Marion Willbright, MSW, LCSW-C, BCD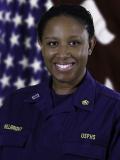 Lieutenant (LT) Marion Willbright is a Family Advocacy Program Chief with the US Army. In her role she provides strategic clinical direction to 25 personnel, including licensed clinical social workers, and administrative staff, who assess, investigate, and process all allegations of domestic violence and child abuse at Fort Stewart and Hunter Army Air Field in Savannah, GA.
LT Willbright received her commission in the Public Health Service Corps in May of 2018 as a Licensed Clinical Social Worker and was appointed to the role of Officer in Charge of the Child and Family Behavioral Health Clinic. While serving in this role, LT Willbright was appointed to an additional role overseeing the Multidisciplinary Outpatient Clinic. Her capacity for leadership was further recognized by Command, which led to her subsequent appointment as Interim Deputy of the Department for Behavioral Health.
LT Willbright holds a Bachelor of Science degree and a Master of Social Work degree from Howard University. Additionally, she has received a Post Master's Certificate in Play Therapy from John Hopkins University. Prior to becoming a commissioned officer, LT Willbright worked in several capacities as a Special Education Teacher, School Social Worker, Medical Case Manager, Outpatient Mental Health provider, and the Family Advocacy Program Manager.
Financial relationships
There are no financial relationships to disclose.
Return to APRIL 2021 CCSS S06: A Review of the Forensic Healthcare Program and other Child and Family Resources in the MHS