Kandice Ray, M.S.N., R.N., S.A.N.E.-A., S.A.N.E.-P.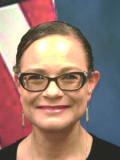 Kandice Ray has 27 years of registered nursing (RN) experience with 14 years of experience as a Sexual Assault Medical Forensic Examiner and is dual board-certified as a Sexual Assault Nurse Examiner– Adult/Adolescent (SANE-A) and a Sexual Assault Nurse Examiner–Pediatric (SANE-P) through the International Association of Forensic Nursing. She transferred to the Defense Health Agency from Army Medical Command Headquarters in March 2021 and assisted with developing the first Sexual Assault Medical Forensic Examiner (SAMFE) Refresher Training. She became a SANE in 2006, first serving as a public health nurse and a SANE at Landstuhl Regional Medical Center in Landstuhl, Germany. From 1993 to 2001, she worked as a Medical Nurse in Minot, North Dakota, as a Public Health in Anchorage, Alaska, as a School Nurse in Anchorage, Alaska, working with adolescent adjudicated sex offenders, and for the military health care program-TRICARE in Honolulu, Hawaii. In 2008, she moved to San Antonio, Texas and joined the Sexual Assault Response and Prevention Program as the first SANE staff. In working with project partners, she assisted with developing and implementing MEDCOM's first sexual assault medical forensic examiner (SAMFE) adult/adolescent training program. She successfully expanded the program from teaching primarily nurses to a comprehensive Sexual Assault Forensic Medical Examiner Program that trains physicians, physician assistants, advanced nurse practitioners, and nurses.
Financial relationships
There are no financial relationships to disclose.
Return to APRIL 2021 CCSS S06: A Review of the Forensic Healthcare Program and other Child and Family Resources in the MHS