Dianne Stroble, N.C., N.E.-B.C.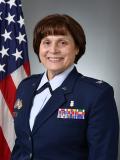 Col Dianne M. Stroble is the Deputy, Education and Training, Defense Health Agency, Defense Health Headquarters, Falls Church, Virginia. She directs 565 personnel, across two regions, in the development and sustainment of Department of Defense medical training initiatives and academic policy with an annual operating budget of 64 million dollars. She provides strategic guidance to two training institutes supporting 52 training programs with 17,000 annual enlisted graduates at the Department of Defense's largest medical training campus. She is directly responsible for combat trauma and joint medical operations to over 222,000 students.
Col Stroble entered the Air Force in 1999 as a direct commissioned officer after receiving her Bachelor's Degree of Science in Nursing from Lycoming College, Williamsport, Pennsylvania. She has held leadership positions in both inpatient and outpatient settings.
Col Stroble deployed in support of Operation IRAQI FREEDOM as an Intensive Care Unit Nurse Manager and 2010 Operation CONTINUING PROMISE Mission where she served as Medical Operations Site Coordinator operative in eight countries.
Prior to her current assignment, Col Stroble served as Medical Management Director and Healthcare Integrator, 87th Medical Group, Joint Base McGuire-Dix-Lakehurst, New Jersey for the Defense Department's only Tri-Service joint base.
Financial relationships
No financial relationships have been disclosed.
Return to Special Feature Webinar: Finding the Right FIT: Charting the Future of Colorectal Cancer Screening in the Military Health System 25 MAR 2021