Shannon Lamb, M.D.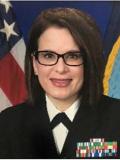 Navy Cmdr. Lamb earned her B.A. and M.D. at University of Virginia and completed her residency in Obstetrics and Gynecology (OB/GYN) at Naval Medical Center Portsmouth. Following residency, Navy Cmdr. Lamb was assigned to Naval Hospital Guantanamo Bay as the Division Chief of OB/GYN and a member of the Executive Committee of Medical Staff (ECOMS). In 2008, CMDR Lamb transitioned to National Naval Medical Center and served as the Transitional and Internal Medicine Intern Coordinator for OB/GYN and the Ambulatory and GYN Surgical Rotation Coordinator for the residency program. From September 2010 to June 2011, Navy Cmdr. Lamb deployed to Afghanistan where she served as the lead physician mentor for the North Atlantic Treaty Organization (NATO) Training Mission-Afghanistan and Combined Security Transition Command-Afghanistan. Navy Cmdr. Lamb next completed a fellowship in Female Pelvic Medicine and Reconstructive Surgery at Walter Reed National Military Medical Center (WRNMMC). Navy Cmdr. Lamb then transitioned to Fort Belvoir Community Hospital where she was the Assistant Department Chief of OB/GYN and Urogynecology Division Chief. In July 2017, Navy Cmdr. Lamb was selected as the Chief for the Office of Women's Health at BUMED (M32), and in December 2018 became the OB/GYN Specialty Leader.

Disclosure: Presenter has a financial relationship with Merck.
Financial relationships
There are no financial relationships to disclose.
Return to FEB 2021 CCSS S07: Updates on Select DHA Women and Infants Clinical Communities Initiatives