Kimberly Lahm , L.M.F.T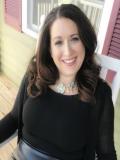 Ms. Lahm serves as Program Director, Patient Advocacy & Experience, Women's Child and Family Health Policy for the Office of the Assistant Secretary for Health Affairs, Health Services Policy & Oversight. She is a Licensed Marriage and Family Therapist with over eighteen years of experience working with issues of interpersonal violence.  Ms. Lahm received her Bachelor of Arts degree in Speech Communication from The Pennsylvania State University, where she graduated from the distinguished Schreyer Honors College in 1999, and her Master of Arts Degree in Marriage and Family Therapy from Syracuse University in 2001. Ms. Lahm began her post-graduate work as a Child and Family Therapist for a non-profit organization assisting victims of intimate partner violence. She provided individual, couples and family therapy to families impacted by interpersonal violence and was featured in local print and news media on such topics as healthy relationships, dynamics of interpersonal violence and the impact of family violence on children.  In 2007, Ms. Lahm began her career working with the military as a clinician within the Family Advocacy Program. She later became the Counseling and Advocacy Supervisor for the Family Advocacy Program at the Walter Reed National Naval Medical Center, developing the program and other programs targeting prevention and response to interpersonal violence during the Base Realignment and Closure process. Ms. Lahm continued her efforts as a Sexual Assault Response Coordinator, where she was selected to participate in a round table discussion with Defense Secretary Ashton Carter on sexual assault in the military.  In 2015, Ms. Lahm joined the Navy's 21st Century Sailor Office as a Social Science Program Specialist, focusing on the Sexual Assault Prevention and Response Program (SAPR) policy development. Ms. Lahm led the Navy's Expedited Transfers Study where the study findings were incorporated into the Defense Advisory Committee for the Investigations, Prosecution and Defense of Sexual Assault in the Armed Services (DAC-IPAD) Report and resulted in the expansion of eligibility to victims of stalking and other sexually-based crimes within the Navy. Before joining the team at Health Affairs, Ms. Lahm served as the Policy Branch Chief for the Air Force Integrated Resilience Office where she represented the Air Force at various Department of Defense working groups. She briefed the Republic of South Korea on efforts within the Air Force to implement the SAPR Program and represented the Air Force at DAC-IPAD proceedings on Expedited Transfers. Ms. Lahm played an integral role in policy development on key National Defense Authorization Act requirements and was considered a trusted resource by stakeholders across the Department. Of note, Ms. Lahm was recognized for her efforts to assist with the implementation of CATCH: Catch a Serial Offender, implemented in July 2019. In addition to her federal service, Ms. Lahm served as an Adjunct Instructor with the State University of New York Learning Network, at Onondaga Community College, for sixteen years and previously provided individual and couples therapy, with a primary focus on trauma, in private practice.
Financial relationships
There are no financial relationships to disclose.
Return to FEB 2021 CCSS S01: Department of Veterans Affairs (VA)/Department of Defense (DOD) Collaboration in Women's Mental Health: Available Resources for Female Service Members Transitioning from Active Service