Joshua Tyler, M.D.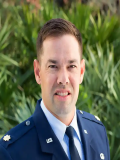 Lt Col Tyler is an active duty Air Force colorectal surgeon stationed at Keesler Air Force Base, Mississippi. He is a distinguished graduate of the Air Force Reserve Officer Training Corps (AFROTC) program at Florida State University, and the Uniformed Services University of the Health Sciences. His practice is comprised of the Keesler beneficiary population, and also in the community via Training Affiliation Agreement (TAA), where he is one of only two surgeons in his specialty in the state. He is the Chief of Colorectal Surgery and Director of robotic surgery at Keesler, as well as the Director of robotic surgery at his TAA hospital, Merit Health Biloxi.
Lt Col Tyler founded and directs the federal government's only DaVinci Xi training site, the Institute for Defense Robotic Surgical Education (InDoRSE), which has trained nearly 400 surgeons and operating room teams for the Department of Defense (DoD) and Veterans Affairs (VA) in team-based skills in robotic surgery. He additionally serves as the Consultant to the USAF Surgeon General for Colorectal Surgery, as well as Chair of the newly-formed robotic surgery steering committee for Defense Health Agency. He also serves on the National Board of Directors for the Florida State University Alumni Association. Lt Col Tyler remains engaged in readiness-related activities, serving on the Air Force advisory panel for the Ground Surgical Team concept, and recently returned from a forward deployment in support of Operation Inherent Resolve.
Financial relationships
There are no financial relationships to disclose.
Return to Home Study-Sept 2020 CCSS S08: Department of Defense Robotic Surgery Overview: Enhancing Operational Readiness