1.0 Getting Started
Please download and view our short tutorial on how to register an account and how to find a course. 
2.0 Viewing and Printing Your Transcripts
Log in to your account.
Navigate and click on MY ACCOUNT.
Click on the MY TRANSCRIPT button.
Your completed activities will display, along with any credit earned and a link to download a certificate.
If you are enrolled in an activity but have not completed it, then that activity will be listed on your "Pending Activities" tab.
Log in to your account.
Navigate and click on MY ACCOUNT.
Click on the MY TRANSCRIPT button.
Click on the Pending activities button.
The page lists all the enrolled activities of the learner.
2.1 Viewing and Printing Your Transcripts from PESG Learning Management System
If you have obtained CE credits with CEPO in our prior LMS called PESG, you need to go to their website to retrieve those certificates. To retrieve certificates prior to 9/1/2018, please use the link https://me.cds.pesgce.com/user_login.php.
3.0 Resetting your Password
NOTE: You should use your username that you created when you first created an account. Your username is not your email address.
Click the Log in link in the upper-right corner of the screen.
Click on the REQUEST A NEW PASSWORD tab.
Enter your username or e-mail address.
Click the "E-mail new password" button.
Click the link in the email sent to the email address you used to create your account.
Enter a new password in the form that appears.
Click the Submit button.
4.0 Access Codes
You need an access code to enter certain courses. We do not provide access codes to learners.  Access codes are distributed by the event point of contact or coordinator.  Event organizers request access codes on their courses so that only the people they invite to take the course are able to enter and complete it.  The event organizer should have distributed the access codes through their outreach for the course. Please contact the event organizer for access codes.  
5.0 Time Zones
Unless otherwise noted, all event times are in Eastern Time (ET).
6.0 Editing Your Account Details
After you have logged in, you can edit account details in your profile.
Navigate to the home page.
Log in to the site.
Click on the MY ACCOUNT link.
Click on the Edit tab at the top of the page.
Make any changes you desire.
Click the Save button.
​​7.0 Updating Your Profile
After you have logged in, you can edit your profile to update personal information.
Log in to the site.
Click on the MY ACCOUNT link at the top right corner of the page.
Click on the Edit Profile tab. Click on the Profile sub tab.
Edit the desired information.
Click Save.
7.1 Changing Your Profession
You can change your Profession choice by
Clicking the My Account button main menu of the website.
Click the Edit Profile tab.
Change your profession.
Save.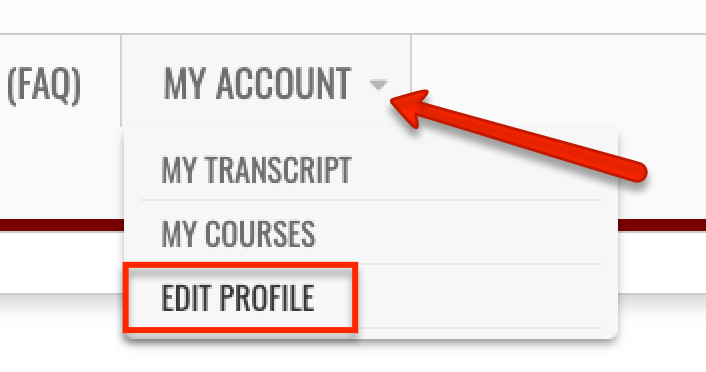 8.0 Finding Your NPI Number
Go to the NPI Number Lookup.
9.0 Browser Requirements
| | |
| --- | --- |
| Internet Explorer | 10 or greater |
| Mozilla Firefox | 44.0 or greater |
| Google Chrome | 48.0 or greater |
| Safari | 9.0 or greater |
We recommend Google Chrome or Mozilla Firefox.
10.0 Grievance Policy
Please refer to our Grievance Policy document.
11.0 Social Workers
PLEASE NOTE – FOR SOCIAL WORKERS LICENSED IN OKLAHOMA ONLY:
Please use "1001" as the "ACE provider number" in the Oklahoma Board online system for all DHA, J-7, Continuing Education Program Office (CEPO) approved courses that offer ACE credits.
ALL OTHER SOCIAL WORKERS:
If the Joint Accreditation Association of Social Work Boards (ASWB) Approved Continuing Education (ACE) credit statement is not accepted on your Certificate of Completion by your state licensing board, please contact us at: dha.ncr.j7.mbx.continuing-education-office@health.mil for further assistance.